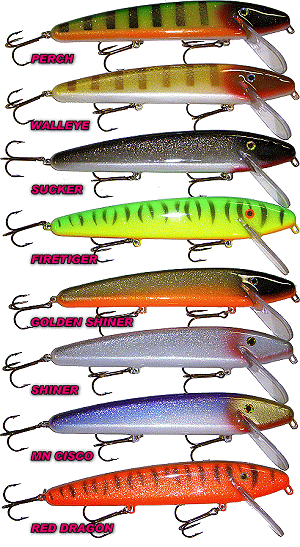 The wood construction has now been changed over in favor of a solid high impact plastic design. The Slammer action remains the same but the consistency and durability has been outstanding!

ALL OF ARE MOLDS ARE BUILT AND THE MOLDING OF OUR LURES IS BEING DONE IN THE UNITED STATES OF AMERICA!!!
The Plastic Advantage!
Molded in thru wire construction. The custom bent wire forms are place into the mold cavity and the bait is then injected, molding in the wire from.
Plastic Durability Is Second To None
Being a solid bait, they can not leak, crack or fill up with water. Paint holds on the bait and the clear coat protects it forever. While the wood Slammers caught fish for years, keeping paint on wet wood has always been a problem. Now with the new plastic, this is no longer an issue!
Plastic Consistency!
The baits come out of the mold within 1 gram of each other. The baits run more consistent and track truer at higher trolling speeds. No longer will the baits become water logged and change the lures buoyancy and action.
Molded In Lip Slot
While molding the baits, the slot for the plastic diving bill is molded in. A locating tab is molded into the slot that lines up the diving bill. This ensures better alignment when assembling the baits. Also, on the deep diving Slammers, it helps lock the lip in with the wire form.
Minnow Baits: (CLICK HERE for mote information)
These have been the mainstay in the Slammer line since the beginning. The action and running depth stayed the same as the wood Slammers with the exception of a slower rise from the bait. This has been a huge plus when fishing in the cooler water during the spring and fall. If you like to twitch them or troll them, Slammers line of Minnow baits have been catching fish since 1989.
Drop Belly Glider: (CLICK HERE for more infromation)
The change from wood to plastic really was a positive here. The consistency of plastic insured that all the baits worked the same. This is something you can never duplicate from production wood jerkbaits.
Deep Divers: (CLICK HERE for more information)
The consistency of the plastic allows the baits to run truer at higher speeds. With the molded in lip slot the plastic diving bill fits securely in place and will not loosen up even when the bait makes bottom contact.