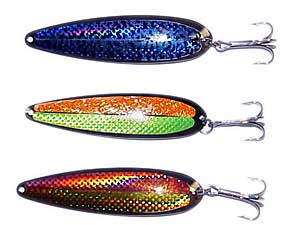 The Slammer Tackle Company has added the New "Trophy" series Large Game fish spoons to their line up.
Whether it's casting for giant Northern Pike or trolling the Great Lake's in search of monster Trout and Salmon, Slammers New "Trophy" spoon's are a must for your tackle box.
Made from Nickel plated .03 Brass and fitted with razor sharp 1/0 Mustad treble hook, the 5 inch - 5/8 of an ounce spoon was designed with the troller in mind but during field testing, it was easily cast with medium action spinning gear. It's awesome wobble works great at slow or high speeds and produces a tremendous amount of flash that will attract game fish like no other.
Available in 18 fish catching Prism tape two tone colors. Custom Colors Available - Call or E-Mail for more details.
Click Here to Order



Dave Vaneerden fished out of his 32 foot Tiara "Jeanne Marie" along with partners Jack Vanderbie, Scott Barnes, Wayne White and Ken Frankland to win the Onekama Shootout on August 9th 2006.

The crew used Slammer's New "Extended Glow" Trophy Spoons on 400 feet of copper line. They weighed in a 5 fish limit that weighed 98.6 pounds.
---
---
Colors Available:

01- Monkey Puke
02- Rotten Banana
03- Double Glow/Blue Spatter
04- Blue/Speckle
05- Blue/Silver
06- Blue/Glow
07- Chartreuse/Glow
08- Chartreuse/Green
09- Firetiger
10- Orange Glow
11- Silver Plum
12- Speckle Glow Plum
13 - Godzilla
14 - Green/Glow
15 - Watermelon
16 - Double Glow/Aqua Splatter

17 - Black Plum
18 - Mixed Banana
19 - Crackle Ice
20 - Glow Cop Car
21 - Pearl Ladder Back
22 - Green Spatter Ladder Back
23 - Green Glow Tail
24 - Green Cracked Ice
25 - Banana Muffin
26 - Bloody Nose
(Extended Glow)
27 - Green Easter Egg
(Extended Glow)
28 - Orange Easter Egg
(Extended Glow)